// bags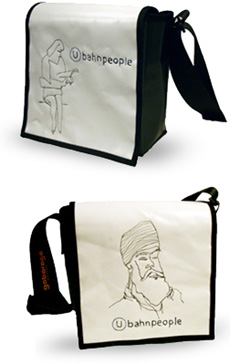 The bags are produced in cooperation with the Vienna-based Fashion Designer Eva Ehrlich and // gabarage - upcycling design.
How we transform sketches into bags?
The bags are made out of recycled truck tarpaulins (stimmt aber nicht, sind andere planen, elke weiß wie sie genau heißen). Eva Ehrlich sews my drawings onto the fronts, and then the creative team of garbarage - upcycling design complete the work by hand. Thus each bag is a unique work of art.
The "U-bags" are available in 2 sizes and various colors.
Small Bag (30cm/12in x 27cm/11in): 98 €
Large Bag (fits a file binder): 129 €
Production time: 2-8 weeks
more ubahnpeople motifs
// prints
Prints - Limited edition
Order:
Simply pick a motif and fill out the contact form or send me an email!
// order
Please fill out all the questions below, and tell me if You are interested in one/more prints or an "u-bag" with motif.